Arnold Palmer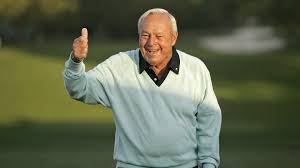 Arnold Palmer is regarded as one of the world's most dominant and recognized sports figures, but his legend and legacy reach far beyond the world of sports.
We at the Rotary Club of Dr. Phillips are fortunate to conduct our weekly meetings at his club, Arnold Palmer's Bay Hill Club & Lodge. Over the years, we have had the distinct honor of having Mr. Palmer as an honorary member of our club and he was recognized as a Paul Harris Fellow for his philanthropic generosity to the Orlando medical community and to the Dr. Phillips area.
Mr. Palmer frequently would inquire about our activities within the community and we were honored to have him speak at our Wednesday breakfast on several occasions over the years.
Outside of our meetings, we were blessed to see him on a regular basis. He was easily approachable, gracious, and always carried a warm smile.
When he spoke to us, it was usually less about golf and more about giving back to the community. Today, the Arnold & Winnie Palmer Foundation continues to support and extend his commitment to others.
We remember his trademark thumbs up and his challenges to us: "We can always do more" and "Never give up."
Thank you Arnold,
The Rotary Club of Dr. Phillips