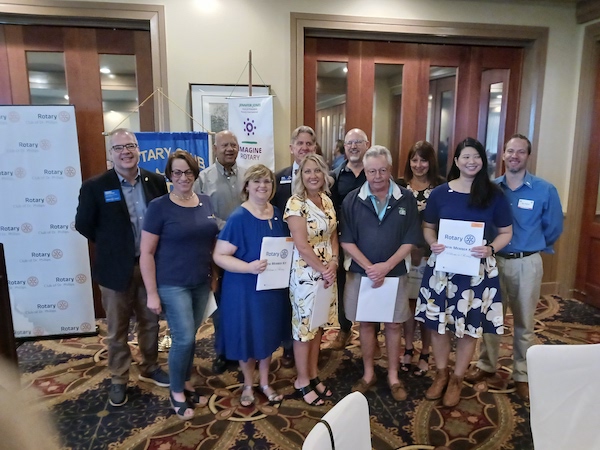 Impact Club members induction by Andres Goyanes, District Governor D-6980, and Rotary Club of Dr. Phillips President, Mark Ramey.
CHARTER MEMBERS - Impact Club of the Rotary Club of Dr. Phillips
The Rotary Club of Dr. Phillips has initiated the first Impact Club in our district. Our Impact Club makes it possible for service-oriented professionals, with scheduling conflicts, to experience the service opportunities of Rotary without the need to attend regular Wednesday morning breakfast meetings.
Welcome Charter Members!
Gabriela Blanco, Derek Brandner, Kathryn Chung, Stacy Crosby, Paul Mazon, Bernadette Meyer, Shalendar Moman, Rebecca Murray, Robin O'Donnell, Jessica Petraccione, Christin Rhyne, William Sazama, Lauralee Shapiro and John Shouldice.
J.J. Lullen, Rotary Club of Dr. Phillips, is club liaison to our Impact Club.
For more information: info@drphillipsrotary.org